Is your Corian worn or damaged?
Corian countertops and vanity tops are popular for their ease of maintenance, durability, and design options. That's why you'll find this material in many homes and commercial properties.
Just like natural stone and other types of countertop material, Corian is not impervious to damage. It can become scratched and damaged over time, or as is often the case with commercial Corian applications, with extensive use.
When your Corian begins to look worn or damaged, don't have it replaced! Instead, let Facility Specialists repair and refinish your Corian.
We are solid surface experts.
Our professional technicians have been specially trained in solid surface repair and restoration processes for Corian, as well as other solid surfaces. Our processes virtually erase overall damage, such as scratches and a dull, worn appearance. In addition, our proven repair techniques camouflage localized damage, such as burns, scratches, chips, and gouges, seamlessly blending repaired areas with the existing surface with such precision that only you will know it had ever been damaged.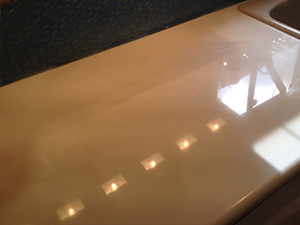 ---
Are you in the Philadelphia / Delaware Valley area and need Corian polishing, restoration, or repair services? Contact Facility Specialists today online or give us a call at (215) 732-7505. We provide FREE estimates.