3 Specialty Divisions
It's what sets us apart.We are known throughout the Philadelphia / Delaware Valley area for excellence in residential and commercial maintenance, but what truly sets us apart is our specialized floor and surface care services. Expect nothing less than extraordinary results at competitive prices.
When You Look Good, We Look Good
The appearance of your home or working environment makes a clear statement to your patrons, employees, family and friends. Your marble floors, granite countertops, limestone bath vanities, onyx bar tops, or other stone, tile, terrazzo, or concrete surfaces reflect your taste and interests. You don't have to live with dull, lifeless, stained surfaces. Flaws, etches, chips, or scratches can all be resolved by the surface care experts at Facility Specialist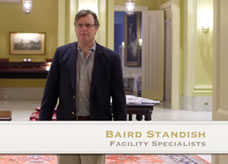 About Us
Facility Specialists has been serving the Philadelphia / Delaware Valley area with full service facility management since 2003. Our team will clean, restore and maintain your surfaces or properties with the same pride and attention to detail as we would our own. For us, a job is never just a job – it is our legacy, as well as the first step in creating an ongoing, mutually beneficial relationship.
We offer Commercial Maintenance Services, providing tailor made services for your  properties, office space or retail facility to routinely clean, restore and maintain your natural stone, tile & grout and concrete floors — keeping your company always looking its best.
 Specialized Services
At Facility Specialists it is our specialized divisions that really set us apart. Each one of these divisions brings highly qualified people trained in the particular type of surface and the professional equipment required to get the job done to excellence.
Our Marble Lustre division offers expert restoration and care for all natural stone repair, cleaning, polishing and restoration, including marble, travertine, granite, slate and other stone floors, countertops, vanity tops, walls, statues, monuments and other surfaces.
Our Brilliant Floors division focuses on concrete and terrazzo floors. If your terrazzo floors are in need of stripping, cleaning, repair or polishing, We've got you covered. What we can do with concrete will amaze you. We offer stamped concrete, acid stained, decorative overlays, and polished concrete.
Our Spotless Tile services include tile and grout cleaning, grout color sealing, on all sorts of tiles… porcelain, ceramic, glass, decorator tile, Saltillo and terra cotta.

Recent Articles..
Property owners and managers are often "up-sold" specialized services for natural stone by well-intentioned but unqualified janitorial and cleaning services.

Read more

Methods for cleaning and care of kitchen backsplashes vary, depending on what type of backsplash you have. Read this article for our recommendations.

Read more

Differences between porcelain and ceramic can impact the cost, appearance, and longevity of your installation. Read this article for important info you should know.

Read more
Read More
Our Brochure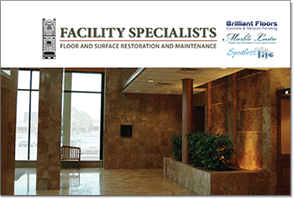 Download the PDF version of our brochure. Or, if you'd like, give us a call at (215) 732-7505 and we can send one to you.