3 Specialty Divisions
It's what sets us apart.We are known throughout the Philadelphia / Delaware Valley area for excellence in residential and commercial maintenance, but what truly sets us apart is our specialized floor and surface care services. Expect nothing less than extraordinary results at competitive prices.
When You Look Good, We Look Good
The appearance of your home or working environment makes a clear statement to your patrons, employees, family and friends. Your marble floors, granite countertops, limestone bath vanities, onyx bar tops, or other stone, tile, terrazzo, or concrete surfaces reflect your taste and interests. You don't have to live with dull, lifeless, stained surfaces. Flaws, etches, chips, or scratches can all be resolved by the surface care experts at Facility Specialist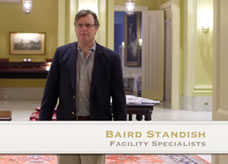 About Us
Facility Specialists has been serving the Philadelphia / Delaware Valley area with full service facility management since 2003. Our team will clean, restore and maintain your surfaces or properties with the same pride and attention to detail as we would our own. For us, a job is never just a job – it is our legacy, as well as the first step in creating an ongoing, mutually beneficial relationship.
We offer Commercial Maintenance Services, providing tailor made services for your  properties, office space or retail facility to routinely clean, restore and maintain your natural stone, tile & grout and concrete floors — keeping your company always looking its best.
 Specialized Services
At Facility Specialists it is our specialized divisions that really set us apart. Each one of these divisions brings highly qualified people trained in the particular type of surface and the professional equipment required to get the job done to excellence.
Our Marble Lustre division offers expert restoration and care for all natural stone repair, cleaning, polishing and restoration, including marble, travertine, granite, slate and other stone floors, countertops, vanity tops, walls, statues, monuments and other surfaces.
Our Brilliant Floors division focuses on concrete and terrazzo floors. If your terrazzo floors are in need of stripping, cleaning, repair or polishing, We've got you covered. What we can do with concrete will amaze you. We offer stamped concrete, acid stained, decorative overlays, and polished concrete.
Our Spotless Tile services include tile and grout cleaning, grout color sealing, on all sorts of tiles… porcelain, ceramic, glass, decorator tile, Saltillo and terra cotta.

Recent Articles..
On marble, granite, and other natural stone, steam cleaning can be harmful.

View more

One common question that arises is whether chlorine bleach is safe to use on stone surfaces.

View more

A fireplace is a beautiful addition to any home. It provides warmth and comfort during frosty winter months and adds a cozy ambiance to any room.

View more
View More
Our Brochure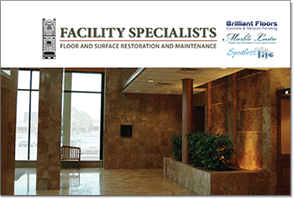 Download the PDF version of our brochure. Or, if you'd like, give us a call at (215) 732-7505 and we can send one to you.

Specialty Solutions
StoneGuard® provides unparalleled countertop protection. StoneGuard® is a protective polyethylene film applied to natural stone countertops and other surfaces, like conference tables and desks, bar tops, and more. Etches from acidic substances or improper cleaners, as well as ultraviolet rays that can accelerate the etching process, leave your once-pristine tops looking uninviting. Scratches, heat marks, chips, and dings take a toll, as well. StoneGuard® adds a new level of protection against such damage.
MORE™ Anti-Etch™ protects against stains and etches from acidic substances such as fruit juices and wine, improper cleaners such as bleach, cosmetics, and other substances. MORE™ Anti-Etch™ is a durable, attractive coating applied to marble, limestone, travertine, onyx, and concrete. It is especially ideal on countertops, conference tables and desks, bar tops, and other surfaces that see a lot of traffic and use. It can prevent premature wear of your stone so that you can avoid hefty restoration costs.